Whether you've forgotten your Sat Nav, aren't able to invest in one, prefer to use Android Auto or Apple CarPlay, or simply want to make the most of the devices you already have, there are multiple navigation apps available on smartphones. The alloy wheel repair and car body repair experts at our vehicle damage repair centre have listed the best sat nav apps and revealed everything you need to know about them…
Google Maps
• Price: Free
• Available: iOS and Android
• Apple CarPlay & Android Auto compatible: Yes
Google Maps has been considered the leading mobile navigation app for several years, and still shows no signs of losing popularity. It's easy to use, and for many Android devices, it's the default navigation app that comes already downloaded on the device. This mobile-optimised app is free to install and use and has a number of features that make discovering a new route easier – from live traffic updates and mobile speed camera alerts, to alternate route suggestions and the ability to turn down the volume of background apps while giving verbal instruction. From road closures, to finding the nearest petrol station en route, our vehicle damage repair specialists know that Google Maps is a firm favourite of many road trip lovers.
Waze
• Price: Free
• Available: iOS and Android
• Apple CarPlay & Android Auto compatible: Yes
Another navigation firm favourite is Waze. Similarly to Google Maps, it is packed full of useful features to make getting to a new destination less stressful. From asking if you need parking nearby when you enter a new postcode, to allowing you to control external entertainment apps without leaving your route, Waze is a great app for both short trips and long journeys. There are several extras designed to make every drive more convenient, like finding the cheapest fuel sold on your route if you start running low, and plenty of Google style-alerts based on real-time traffic updates. If there's an accident, a mobile speed camera or backed up traffic anywhere along your route, Waze will let you know well in advance.
TomTom Go
• Price: £1.99 per month/£12.99 per year
• Available: iOS and Android
• Apple CarPlay & Android Auto compatible: Yes
Although satnavs may not be everyone's go to, TomTom still remains at the forefront of daily navigation with the TomTom GO app. However, you'll have to pay a subscription for this premium navigation app – but don't worry, prices are more than reasonable. From just £1.99 a month, our car body repair experts believe that this app provides great value if you're someone who's frequently on the road. TomTom GO includes helpful features like Moving Lane Guidance, which takes the guesswork out of lane choosing and makes "the wrong exit" a thing of the past. You'll find real-time updates with an accurate ETA, and you can even share your location with chosen connections. Our vehicle damage repair experts find that this is great for showing your family that you got home safe, or letting your colleagues know you'll be late to the office.
Apple Maps
• Price: Free
• Available: iOS
• Apple CarPlay & Android Auto compatible: Apple CarPlay only
Apple Maps comes pre-downloaded on iPhones and remains one of the most popular navigation apps on the market. There are plenty of great features to take advantage of, from real-time traffic updates to speed and red-light camera warnings. You can even see travel updates while en route, so you'll never miss that flight or train again. However, the main drawback of Apple Maps is that it's only available to iOS users. Unfortunately, if you're an Android user, you'll find your device isn't compatible with this popular navigation app – including cars featuring Android Auto. However, our alloy wheel repair specialists encourage you to remember that if your vehicle supports Apple CarPlay, you'll get access to features in full.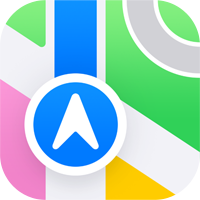 Sygic Navigation & Maps
• Price: £31.99
• Available: iOS and Android
• Apple CarPlay & Android Auto compatible: Yes
Our car body repair experts at our vehicle damage repair centre believe that this app is perfect if you're someone who struggles to follow satnavs. Sygic's unique 3D maps are realistic enough to follow without being distracting. They are updated regularly, meaning that you'll always be able to spot key similarities to help you find the right turning or exit. Like the other apps recommended by our alloy wheel repair specialists, Sygic also uses real-time traffic updates too, so you can always avoid a traffic jam. You'll find all the features you'd expect from a premium satnav app, like speed camera warnings, parking suggestions, Dynamic Lane Assistance and more. Plus, with millions of point of interest locations loaded directly into the app, you'll never run out of places to explore with Sygic.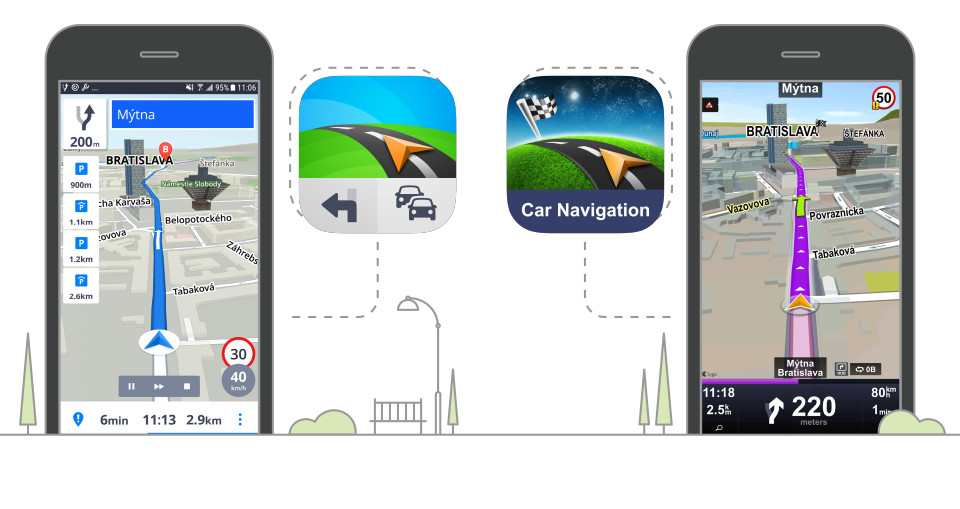 Visit Jenkins & Pain, an Award-Winning Accident Repair Centre
There you have it, if you do find yourself needing vehicle damage repair and need a car repair or van repair you can count on us to complete all jobs using industry-standard processes. We offer free quotes and with our exclusive repair service, we are sure you will be happy with the results. Contact our Vehicle Body Shop today. Jenkins & Pain are a vehicle accident repair centre based in Dover, Kent. We are proud to call ourselves an award-winning accident repair centre. Check out our guide on how to look after your alloys!
Ready to Visit Our Vehicle Body Shop?
We understand how costly and inconvenient it is for a vehicle to be off the road and therefore we use processes that ensure your vehicle is repaired quickly and efficiently. So whether you need minor scratch repairs, major body repair, or alloy wheel refurbishment, our van body shop and car body shop can guarantee a high-quality service. We also repair light commercial vehicles and motorhomes. Contact us today for a paint repair at our Car Body Shop!