Ever wonder why a car paint job looks so incredible when done by an expert, like the ones at our accident repair centre? It's not just the paint booth. When you're getting ready to paint your car or truck project, you watch videos, take classes, read how-to books, but there's many little detail steps that are not covered in most instructional formats. The good news is, these steps will not add too much time to your paint schedule and will have minimal effect on your paint budget. Taking the extra time to do these things will save you both time and money. Our vehicle wrapping and plasti dip services specialists have revealed their top tips to get professional looking results from your DIY car paint job…
1. Guide coats
A guide coat is a very thin, lightly applied mist coat of contrasting paint over primer or body filler. It's exactly what the name implies; it's a guide to the high and low points on the surface. It will tell you exactly how much you've sanded and will prevent you from creating low spots from over-sanding. It also helps show what has and hasn't been sanded. Applying the guide coat couldn't be easier. If you have a surface of light grey primer, reduce some black base coat (one part base coat to four parts reducer) and apply a mist coat over the surface. For a dark grey primer, use a light grey base coat. You can use guide coats over body filler to help get the bodywork nice and even. You can even get a dry guide coat powder, which is wiped on with an applicator. While you are at it find out more about our plasti dip services.
2. The Right Grit
When doing a car paint job, using the correct grit of sandpaper can save many hours of time. Too often people try to get the most life out of that piece of sandpaper, when in fact they're creating more work. That piece of 120 gets worn out and starts to smooth over the high spots, rather than cut them flat. In fact, anything over 150-grit will not effectively cut through a bump on the surface, rather it will simply sand over it. Don't be afraid to use the harsh grit sandpaper when you're trying to get the surface smooth. Once everything is nice and flat, that's the time to work down the small imperfections like sand scratches. Our plasti dip services and vehicle wrapping specialists would like to remind you that you want to level the surface first, then build on that. Did we mention we are a green accident repair centre?
3. Check That Body
Here's a very easy way to check for unevenness down the side of a car or across any surface. After sanding your primer, spray or wipe a wet coat of wax and grease remover on the surface and sight down the length of the car. Every bit of waviness will show up. That way, if needed, more bodywork or straightening can be done before the next round of primer goes on. With this method, the surfaces can all be checked before the basecoat is applied. Our plasti dip services experts suggest that you don't wait for the finished paint to see unevenness in the reflections down the side of the car.
4. Don't Skip Sealer
Paint materials get expensive, and it's tempting to cut costs by not using sealer. However, sealer remedies a world of problems, smoothing out any deep sand scratches and covering bare metal. In many cases, it can also help the finished colour of the vehicle. For example, yellow is a very transparent colour. A white sealer makes is easy to get quick and even coverage when painting yellow or other transparent colours. Make sure to use sealer that is recommended for the base coat being used. The technical sheet for your base coat will have recommendations for which sealer to use.
5. Read That Technical Sheet
Our vehicle wrapping and car paint job experts recommend that when you a buy a product, make sure to get the tech sheet for it, especially if you're using a product for the first time. A tech sheet will answer almost every question about the product, like what it should be sprayed over, how it should be applied, how long in between coats, dry and re-coat times, and much more.
6. Test That Paint
People can't wait to get that paint on there! That impulsiveness can cause brutal headaches when coverage or colour problems occur. Always take the time to create spray out cards and/or test panels. Some spray out cards come with different tones of grey to show the actual coverage. Discarded sheetmetal parts work great for test panels. You want to make sure it's the expected colour and learn the best way to apply it. Make your mistakes in testing. For solid colours, spray out cards work great. But if you don't have much experience painting pearls or candy paint, it's best to create a large test panel and learn how to apply your colour. Problems such as unevenness with colour application will not show up on a smaller spray out card.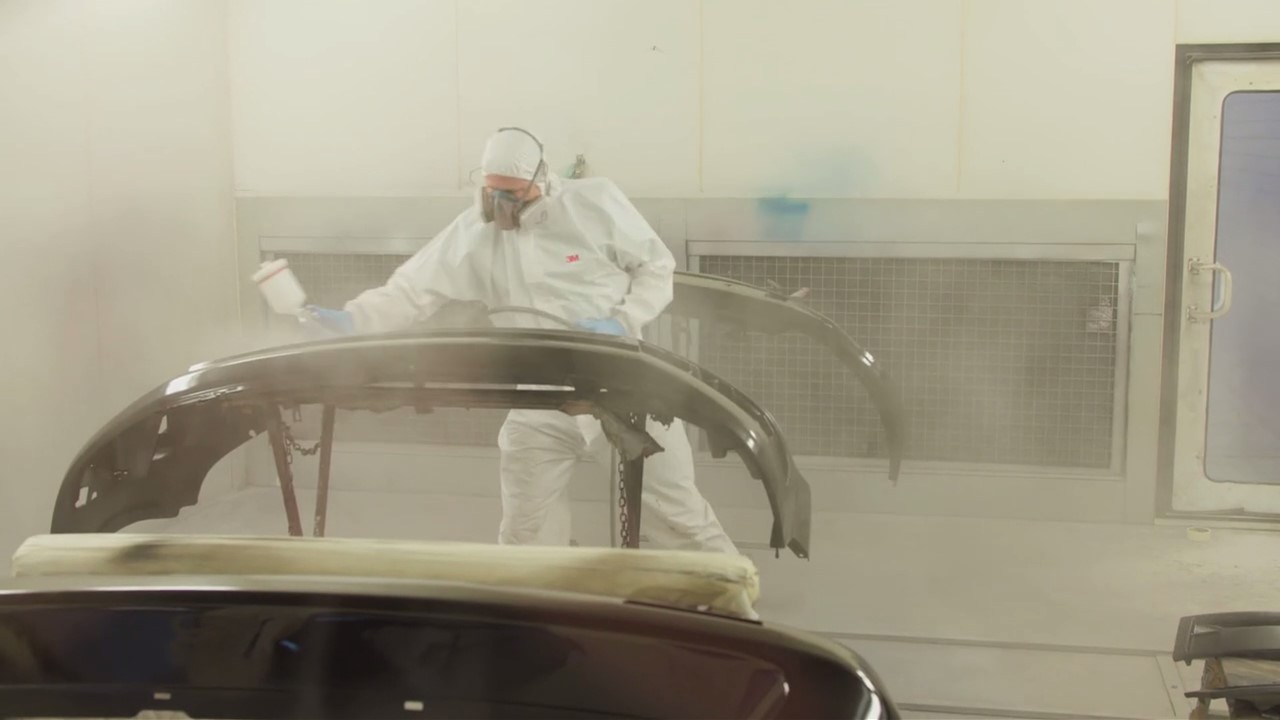 7. Test That Spray Pattern
It's crazy how often a painter will load the gun with paint and start spraying without first checking the pattern. Spray gun technique and its relationship to the atomization of products is often misunderstood. There are four factors to proper gun technique: gun angle, speed, path, and distance. Before spraying, our car paint job experts recommend that you check and adjust the spray pattern. Our vehicle wrapping experts know that this will help to find and correct problems before they happen on the surface of the car.
8. Stand Back!
One of the biggest mistakes is only evaluating the car from up close. Unless you have a shop that's over 40 feet wide, take it outside for a look occasionally. Take the time to back the car out of the shop and look at it from a distance. Look at the car the way it will be judged in real life, about 10-25 feet away, especially if you're doing any stripes or artwork on the sides. Plus, it also helps to see what the car looks like in the sun. It's a great way to find areas that need fine tuning. See our tips on how best to clean your vehicle!
Use Jenkins & Pain, Award-Winning Express Repairs Centre
There you have it, if you do find yourself needing a car paint job, breakdown repair, vehicle wrapping services, plasti dip services, car bodywork repair or vehicle damage repair and need a car repair or van repair you can count on us to complete all jobs using industry-standard processes at our express repairs centre. Our body shop repair centre offers free quotes and with our exclusive repair service, we are sure you will be happy with the results. Contact our Vehicle Body Shop today. Jenkins & Pain are a vehicle accident repair centre based in Dover, Kent. We are proud to call ourselves an award-winning accident repair centre. Check out our guide on how to look after your alloys!
Ready to Visit Our Vehicle Body Shop?
We understand how costly and inconvenient it is for a vehicle to be off the road and therefore we use processes that ensure your vehicle is repaired quickly and efficiently. So whether you need minor scratch repairs, major body repair, or alloy wheel refurbishment, our van body shop and car body shop can guarantee a high-quality service. We also repair light commercial vehicles and motorhomes. Contact us today for a paint repair at our Car Body Shop!