The courtesy car, vehicle damage repair and vehicle wrapping experts know that not having your car serviced regularly is a false economy. Regular servicing can catch minor issues before they become major problems and therefore keep your car on the road for longer. So, how do you know when your car needs servicing?
1. Because the manual says so
Particularly for owners of new cars, the vehicle manual is full of useful knowledge, not least the intervals at which you should get a service for your car. Keeping a full service history will also help your car to retain its value when you come to sell it or exchange it.
2. Dashboard warning lights
This is the most obvious physical sign that your car is in need of a service. Ignoring a dashboard warning light can land you in very deep trouble, so get a service booked as soon as possible.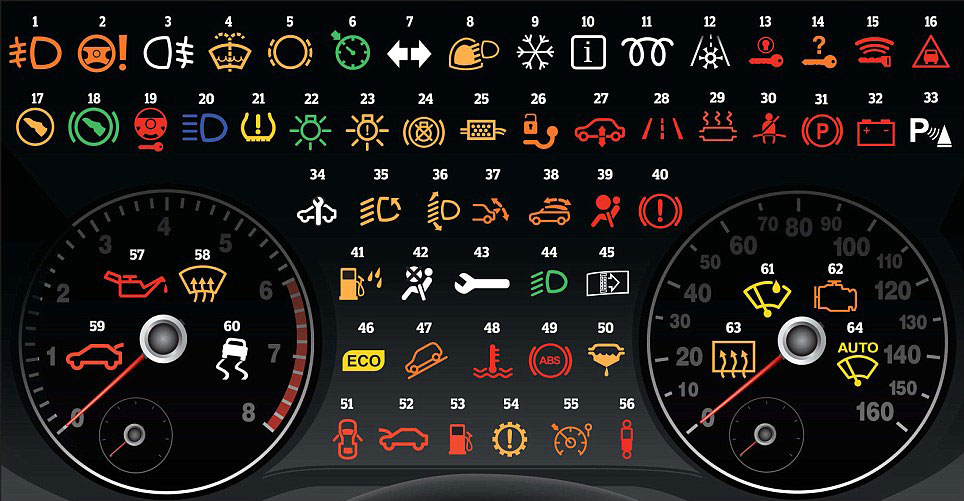 3. Braking problems
Modern brakes are ultra-responsive so if you notice any issues like knocking or other noises, oversensitivity or resistance you have a problem. Unfortunately, brake pads and fluid don't last forever!
4. Squeals and squeaks
Do you hear a high-pitched whine when you turn the ignition key? This could indicate an issue with a belt that's either in danger of wearing through or has come loose. Squeaks on the move could mean that your power steering fluid needs replacing or that your tyres may have become unbalanced. All of these issues need addressing before they can turn into major problems.
5. Engine cutting out
Does your car stall as you pull away from traffic lights, even when you're in the right gear? The most common causes are clogged fuel filters and dodgy spark plugs, which are easy issues to put right, so book in for a service and get them checked.
6. Vibrations
If you're not on a poor road surface and your car starts to shudder and vibrate, you need to get it seen to. It might be something as simple as a loose piece of panelling or as severe as unbalanced tyres or a loose bearing.
7. Ignition issues
If your car coughs every time it starts, your battery could be on the way out. Another cause of faulty starting could be related to problems with the starter motor. Whatever the cause, let your local garage take a look.
8. Doing fewer miles to the gallon
Of course all car engines decrease in efficiency over time, but the depreciation is generally minor over the lifespan of each vehicle. If you notice that your car is doing significantly fewer miles per gallon, it could be a sign that your car needs a service.
9. Grinding gears
Even for the carphobic, the sound of grinding gears is a sure sign that you need to take your car to a garage. Any noises or difficulty in changing gear means that you definitely need to visit the garage.
10. Filthy emissions
Big belching clouds of filthy smoke spell trouble, regardless of whether they're coming from under the bonnet (suggesting a problem with the radiator), or out of the exhaust (suggesting an oil leakage). Don't take the chance of a leak becoming critical and get it checked.
What does a car service include?
During a car service, the mechanic team will provide your vehicle with a thorough examination, looking at things like the state of the body, the health of the engine, brakes, and steering, amongst a whole host of other things. A car service is not really something that you can do at home. It requires in-depth mechanical training and lots of computerised technology in order to measure and monitor the state of your car. Most car owners don't have the equipment or the know-how to do it themselves.
During a car service, the mechanic will do a variety of things, such as:
-Topping up your car's fluid levels (brake fluid and engine oil, power steering fluid, screen wash, antifreeze, and coolant)
-Replacing your air filter and oil filter
– Checking your spark plugs, radiator, as well as windscreen wipers 
– Carrying out a brake check on your brake pads and the handbrake
(What is included in a car service will be dependent on the type of car service you go for).
Use Jenkins & Pain, Award-Winning Accident Repair Centre
There you have it, if you do find yourself with damage to your beloved paintwork or steering alignment and need a dent repair, van body repair or courtesy car you can count on us to complete all jobs using industry-standard processes. We offer free quotes and with our exclusive repair service, we are sure you will be happy with the results. Contact our Vehicle Body Shop today. Jenkins & Pain are an accident repair centre based in Dover, Kent. We are proud to call ourselves an award-winning accident repair centre. Check out our guide on how to look after your alloys!
Ready to Visit Our Vehicle Body Shop?
We understand how costly and inconvenient it is for a vehicle to be off the road and therefore we use processes that ensure your vehicle is repaired quickly and efficiently. So whether you need minor scratch repairs, major body repair, or alloy wheel restoration, our van body shop and car body shop can guarantee a high-quality service. We also repair light commercial vehicles and motorhomes. Contact us today for a paint repair at our Car Body Shop!