Designed to improve the safety of pedestrians, cyclists and horse riders, new rules have been implemented in The Official Highway Code as of 29th January 2022.​​ There are eight key changes that every road user needs to know about, in order to keep each other safe. The steering alignment and kerbed alloys experts at our car paint job repair centre have revealed everything you need to know about the 2022 changes to the highway code.
Road User Hierarchy
A new road user hierarchy has been introduced by the Highway Code, which places those at most risk during an accident, at the top of the chain. This hierarchy is as follows: Pedestrians, Cyclists, Horse Riders, Motorcyclists, Cars, LCVs, and HGVs. Our car paint job and steering alignment specialists know that it is undoubtedly the responsibility of all road users to take consideration for the safety of each other.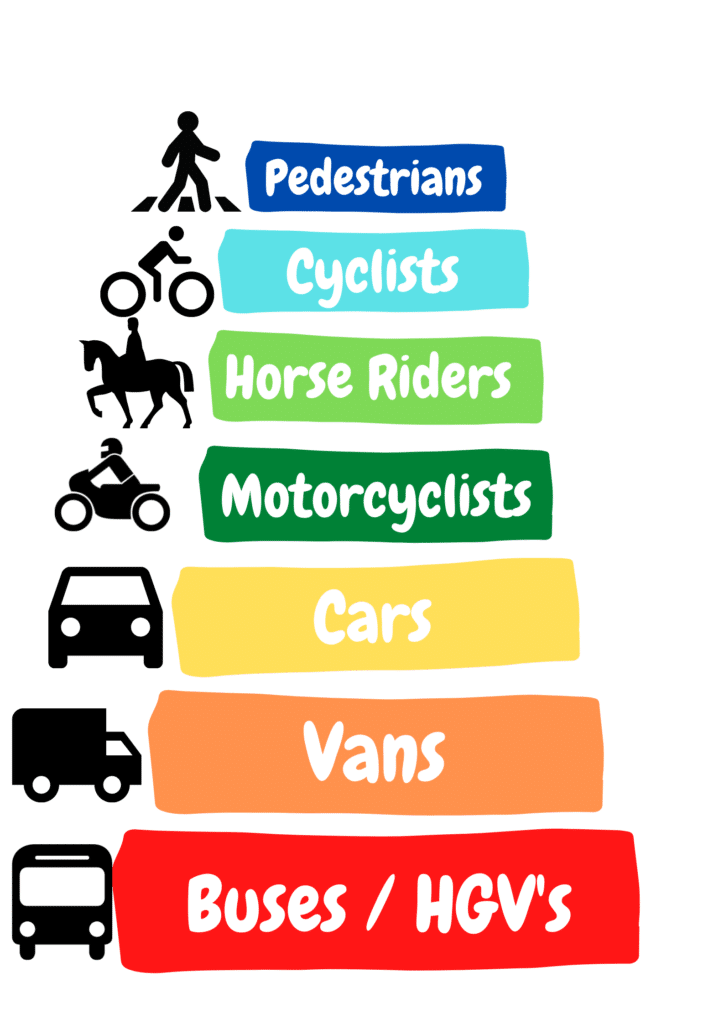 Motorists Parking and Charging Their Vehicles
Road users need to familiarise themselves with a term called the 'Dutch Reach'. It is a recommended technique by the Highway Code for drivers to adopt when leaving parked vehicles.
What is the Dutch Reach?
If you're not already familiar with it, the Dutch Reach requires drivers or passengers of vehicles to open the door using the hand on the opposite side to the door they are opening. This technique means that the person is required to turn their head and look over their shoulder behind them before exiting the vehicle. This process is all down to putting the safety of pedestrians, cyclists and horse riders first.
Electric Vehicle Charging Guidance
New guidance has been introduced by the Highway Code for motorists parking to charge electric vehicles. Our steering alignment experts would like to inform you that these state:
Drivers should park their vehicles close to the charging point to avoid creating a potential trip hazard for others.
Return the charging point's cables and connectors neatly so as not to create a potential obstacle for others to navigate.
Motorists Overtaking Cyclists and Horse Riders
The Highway Code has updated its guidance for motorists overtaking more vulnerable road users, such as cyclists and horse riders. Our kerbed alloys and car paint job experts would like to inform you that the following rules are now in place:
Motorists must leave at least 1.5 metres (5 feet) in distance when overtaking cyclists at speeds of up to 30mph, increasing the distance the faster a car is travelling.
Motorists must ensure they slow down to 10mph when passing horse riders or horse-drawn vehicles and allow at least 2 metres (6.5 feet) in distance.
Motorists must allow at least 2 metres (6.5 feet) in distance and keep to a low speed when passing pedestrians who may be walking in the road – when there's no pavement present, for example.
Pedestrians Using Junctions
It's important that all road users understand the new rule when it comes to pedestrians crossing at a junction. The updated 2022 Highway Code states:
When pedestrians are crossing a junction – or waiting to cross a junction – all other traffic should give way and allow them to cross.
If pedestrians have already begun crossing a junction and traffic is turning into the road, the pedestrians have priority and can continue to cross whilst the traffic waits and gives way.
Motorists, cyclists and horse riders must give way to pedestrians on a zebra crossing or a parallel crossing.
Cyclists Using Junctions
Our kerbed alloys and steering alignment specialists know that cyclists will need to be aware of advice about new special cycle facilities in place at some junctions. Changes to help cyclists have also been introduced, such as small traffic lights at eye-level heights for cyclists which dictate when they can stop or go (as this may differ from motorists). Advice has also been issued to cyclists where there are no dedicated cycle lane facilities. In order to make cyclists as visible as possible to other road users – or avoid them being dangerously overtaken – cyclists are allowed to position themselves in the centre of a chosen lane. When cyclists are turning in or out of a side road, they must give way to pedestrians who are already walking or waiting to cross the junction.
Road Cycling Position
Following on from the previous point, cyclists have been issued with guidance about where they should position themselves when cycling on roads. The steering alignment specialists at our kurbed alloys repair centre would like to inform you that the Highway Code now states:
Cyclists are being instructed to ride in the centre of their lane on quiet roads, in slow-moving traffic, and at the approach to junctions or narrowing roads.
Cyclists are being encouraged to keep at least 0.5 metres (just over 1.5 feet) away from a kerb edge when travelling on busy roads where motorists are moving faster than them.
Cyclists should be considerate to other road users when riding in groups, allowing motorists to overtake when it's safe to do so, by moving in single file or stopping altogether.
Cyclists are allowed to ride two abreast when it is deemed safe to do so (especially when accompanying children or less able riders).
Cyclists must take care when passing parked vehicles by leaving 1 metre (a car door's width) between them and watch out for pedestrians who may walk into their path.
Cyclists, Horse Riders and Horse-Drawn Vehicles Using Roundabouts
Similarly with cyclists and motorists giving priority to pedestrians at junctions, the Highway Code has been updated to confirm that motorists must give priority to cyclists, horse riders, or horse-drawn vehicles using roundabouts. Our steering alignment specialists believe that there are two main points for motorists to consider if this is the case:
Motorists must not overtake or attempt to overtake cyclists, horse riders, or horse-drawn vehicles within a roundabout lane.
Motorists must allow cyclists, horse riders, or horse-drawn vehicles to move across their path as they travel around the roundabout.
Shared Spaces for Pedestrians, Cyclists and Horse Riders
For routes that are shared by pedestrians, cyclists and horse riders, there are new rules to obey. These are:
Cyclists should not pass pedestrians or horse riders at high speed or close proximity, especially when approaching them from behind.
Users of shared spaces must make their presence aware to others – cyclists should ring their bell, for example.
All shared space users must consider more vulnerable users, such as deaf, blind or partially-sighted people.
Pedestrians and cyclists should not pass a horse on their left side.
Use Jenkins & Pain, Award-Winning Accident Repair Centre
There you have it, if you do find yourself needing a car paint job, repair to your kerbed alloys or a steering alignment reset and need a car repair or van repair you can count on us to complete all jobs using industry-standard processes. We offer free quotes and with our exclusive repair service, we are sure you will be happy with the results. Contact our Vehicle Body Shop today. Jenkins & Pain are a vehicle accident repair centre based in Dover, Kent. We are proud to call ourselves an award-winning accident repair centre. Check out our guide on how to look after your alloys!
Ready to Visit Our Vehicle Body Shop?
We understand how costly and inconvenient it is for a vehicle to be off the road and therefore we use processes that ensure your vehicle is repaired quickly and efficiently. So whether you need minor scratch repairs, major body repair, or alloy wheel refurbishment, our van body shop and car body shop can guarantee a high-quality service. We also repair light commercial vehicles and motorhomes. Contact us today for a paint repair at our Car Body Shop!