Achieving proper tyre alignment is a crucial component of your vehicle's performance. But, are you in need of a four-wheel alignment or a two-wheel alignment? The steering alignment, ADAS resets and plasti dipping experts at our accident repair centre have revealed the difference between the two alignment types and have helped determined which is best for you.
What is Wheel Alignment?
Unlike tyre balancing, a wheel alignment doesn't involve directly manipulating your car's wheels or tyres at all. Your suspension connects your car to the wheels themselves, and the angles of your suspension impact the way that your tyres make contact with the road. A steering alignment professional adjusts your steering and suspension system to ensure that your tyres are at an optimal angle. To achieve the proper angles, alignments usually include toe, camber, and caster adjustments.
What is a Two-Wheel Alignment?
Front-end — commonly referred to as two-wheel alignment — involves adjusting just your vehicle's front steering and suspension. A technician manipulates and angles your suspension components in order to meet manufacturer specifications during a two-wheel alignment. The technician may also adjust certain components within the steering system. During this process, the front toe, camber, and caster are precisely angled until they're correct.
What is a Four-Wheel Alignment?
Unlike a two-wheel alignment, a four-wheel alignment will include both a front-end alignment as well as a rear suspension adjustment. This simply means that a professional technician will adjust any camber, toe, and caster angles on both the rear-end and front-end of your vehicle, if this is applicable.
What is a Rear-End Alignment?
This alignment process is similar to a front-wheel alignment but it's in the rear of your vehicle. Camber, toe, and caster adjustments are made (if applicable) to ensure your rear tyres strike the road perfectly.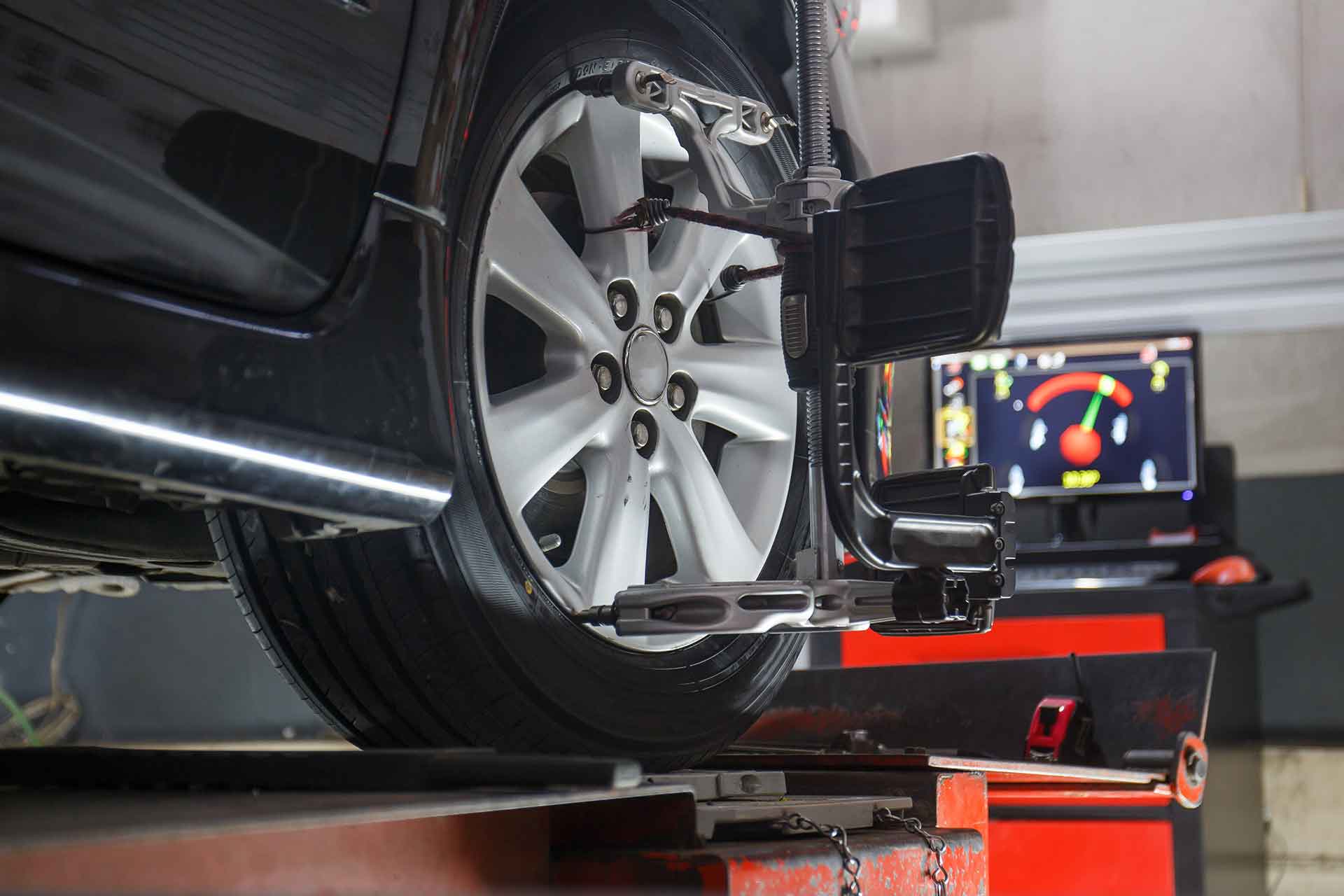 Why do I need a Wheel Alignment?
Wheel alignments have many benefits, however improper wheel alignment can result in uneven or premature tyre wear. Wheel alignments ensure that your tyres can perform at their best and wear evenly — which in turn extends the lifespan of your tyres and helps to keep your hard-earned money in your pocket. In addition to ensuring that your tyres are performing at their best, a wheel alignment can resolve common problems, such as pulling to one side, an off-centre steering wheel, wander, or vibrating. Proper alignment can improve your vehicle's handling as well as your overall driving experience. 
Two-Wheel vs Four-Wheel Alignment: Which do I need?
The type of alignment service your vehicle needs is dependent upon your steering and suspension system, manufacturer recommendations, and whether or not you've been in a collision or another incident that could impact your suspension system. 
Do I Need a Four-Wheel Alignment?
Most modern vehicles — including cars, small SUVs, crossovers, and vans — require a four-wheel alignment, as do all-wheel-drive equipped models. The general rule of thumb is that if you can align all four tyres, you should.
Do I Need a Two-Wheel Alignment?
Even though most modern cars do require a four-wheel alignment, there are a few exceptions. It's impossible to adjust the rear suspension of vehicles with a solid, fixed rear axle — often large trucks, SUVs, classic cars, or cars made by certain manufacturers. In these cases, your vehicle's thrust angle will be checked and adjusted (if necessary) to ensure that all four wheels are pointing directly ahead.
Use Jenkins & Pain, Award-Winning Accident Repair Centre
There you have it, if you do find yourself with damage to your beloved paintwork, plasti dip or steering alignment and need a dent repair, van body repair or courtesy car you can count on us to complete all jobs using industry-standard processes. We offer free quotes and with our exclusive repair service, we are sure you will be happy with the results. Contact our Vehicle Body Shop today. Jenkins & Pain are an accident repair centre based in Dover, Kent. We are proud to call ourselves an award-winning accident repair centre. Check out our guide on how to look after your alloys!
Ready to Visit Our Vehicle Body Shop?
We understand how costly and inconvenient it is for a vehicle to be off the road and therefore we use processes that ensure your vehicle is repaired quickly and efficiently. So whether you need minor scratch repairs, major body repair, or alloy wheel restoration, our van body shop and car body shop can guarantee a high-quality service. We also repair light commercial vehicles and motorhomes. Contact us today for a paint repair at our Car Body Shop!