The vehicle paint experts at our car bodywork repair centre understand how frustrating sun damage to vehicle paint can be, and so our scratch and dent repair specialists have revealed everything you need to know about sun damage to vehicle paint…
How Does the Sun Damage Vehicle Paint?
Well, quite simply, it's a potent energy producer that stimulates a surface to react when it hits. It produces a quick burst of energy, which is given off as heat but also results in molecular bonds that break. Over time, it begins to break down the molecules found in vehicle paint, clear coats, and other materials, which causes it to be less reflective or transmitting less brilliance of 'colour' that our eyes see. This is known as the dulling effect that UV light is responsible for creating with vehicle paint, plastic trims, headlights, vehicle glass, tyres and wheels.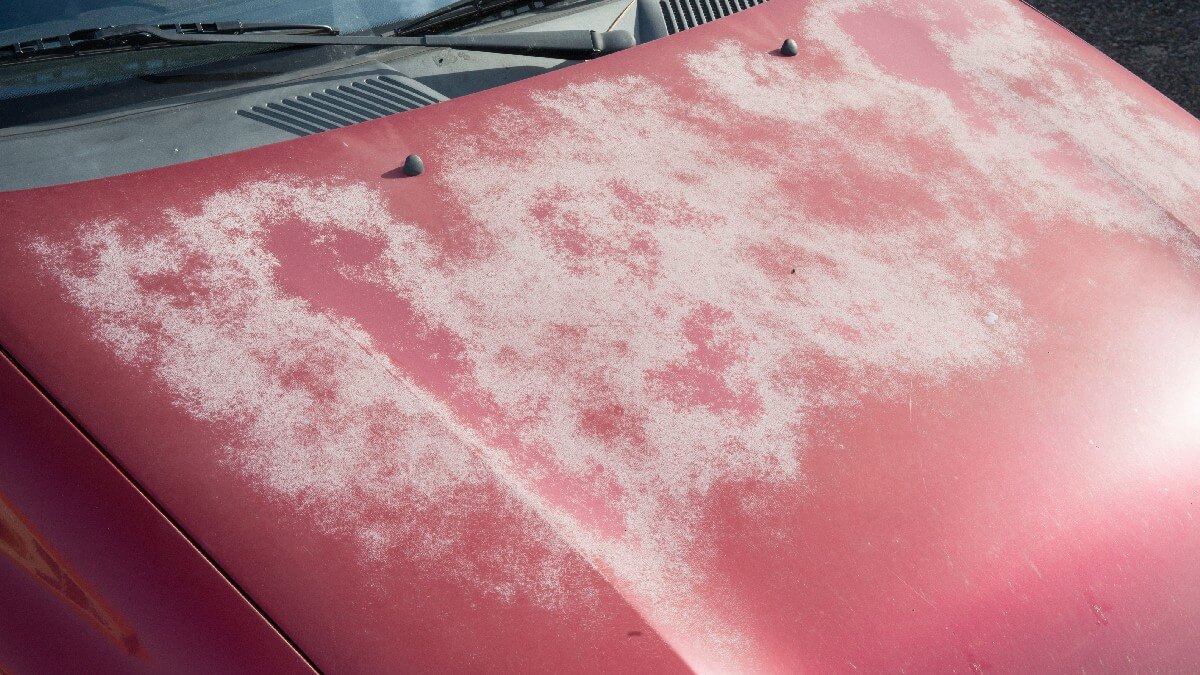 Does UV Light Cause Some Car Colours to Fade Faster?
Our scratch and dent repair experts know that it is a fact that some colours of vehicle paint are more susceptible to becoming damaged by ultraviolet rays than others. You see, every colour that we see has a unique wavelength that it produces. And each vehicle paint colour is engineered to absorb all the wavelengths in the visual spectrum – except the one that is associated with that colour.
For example, red vehicle paint absorbs everything – except for red. The red is refracted from the surface, streamed into our visual cortex, and our brain can then see what colour it is. Red is one of those paints that tend to 'fade' more due to UV light. This is because it's tiny wavelength of energy is represented in the light that is visible. It appears 'faded' because UV light breaks down the molecules in "red paint" more aggressively than others. You'll see this same issue with minor blends of 'reds' such as purples or oranges.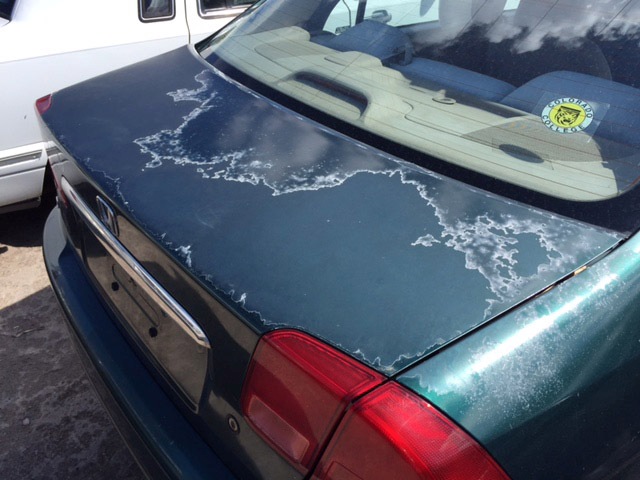 Other Factors that Expedite the Breakdown of Paint Molecules by UV Light
UV rays are the primary source of paint fading and degradation. However, our scratch and dent repair specialists know that there are additional environment considerations that can accelerate damage to the paint – or specifically, the clear coats.
Dirty Cars
When a car is dirty, it is covered with contaminants that slowly eat away at the clear coat or the surface of a porous material. Over time these contaminants and debris can weaken the protection of clear coatings. This accelerates the process of UV light penetration and thus oxidation. The simple act of keeping your car clean by washing it every two weeks can significantly reduce the potential of paint damage caused by UV radiation.
Bird Faeces and Bug Splatters
Animal by-products such as bird droppings, tree sap, or bug guts contain high levels of acids that also accelerate UV radiation damage with vehicle paint and other surfaces. Specifically, bird droppings contain high levels of uric acid, which can begin to breakdown clear coated paint in a matter of hours. Combined with the heating and energy-stimulating attributes of sun exposure, this provides the perfect conditions for vehicle paint damage to occur. Using a product with UV protection is the best way to also protect the exterior from acids found in animal by-products.
Salt and Road Grime
Salt is another contaminant that allows UV light damage to on vehicles. Sodium Chloride can also quickly penetrate a protective surface, whether it's car wax, clear coating, or even some vehicle paint sealant products. Road grime is a combination of chemical toxins like tar, gravel, and oils that likewise slowly allow UV rays to cause damage to vehicle paint.
Tips for Protecting Your Car from UV Rays
The scratch and dent repair experts at our car bodywork repair centre believe that the best way to protect your car from exposure to UV radiation is simply washing the car as recommended. The leading causes of UV radiation essentially break down to not taking care of the vehicle, or specifically the surface materials. Our car bodywork repair centre has previously revealed everything you need to know about the best way to wash your car.
Use Jenkins & Pain, Award-Winning Vehicle Repair Centre
There you have it – everything you need to know about how the sun can cause damage to vehicle paint! If you do find yourself needing car bodywork repair or alloy wheel repair and need a car repair or van repair you can count on us to complete all jobs using industry-standard processes. Our body shop repair centre offers free quotes and with our exclusive repair service, we are sure you will be happy with the results. Contact our Vehicle Body Shop today. Jenkins & Pain are a vehicle accident repair centre based in Dover, Kent. We are proud to call ourselves an award-winning accident repair centre. Check out our guide on how to look after your alloys!
Ready to Visit Our Vehicle Body Shop?
We understand how costly and inconvenient it is for a vehicle to be off the road and therefore we use processes that ensure your vehicle is repaired quickly and efficiently. So whether you need minor scratch repairs, major body repair, or alloy wheel refurbishment, our van body shop and car body shop can guarantee a high-quality service. We also repair light commercial vehicles and motorhomes. Contact us today for a paint repair at our Car Body Shop!