If you are having issues with starting your car, it could be due the battery or alternator. But which one? The good news is our steering alignment specialists know of a relatively easy way to find out…
First, it's important to understand how the alternator and car battery work together. Your car battery is effectively the power source for many different functions when the vehicle is off, including starting your car. Your car alternator helps charge the car battery when the engine is on. Our vehicle accident repair centre know that these two car parts work hand-in-hand to keep the electricity flowing in your car to make sure things run smoothly. If your car doesn't start at all, you may have a dead battery. If your car starts for a short while, giving you that glimpse of hope that all is fine, but then promptly stops, our commercial vehicle repair and steering alignment experts know that it is likely you have an alternator issue. To find out whether it's a dead battery or alternator issue, grab a set of jumper cables and do a little experimenting.
Jumpstart your Car
If you can turn the engine on, but it dies shortly thereafter, your car alternator likely isn't able to charge the battery. On the other hand, if you jumpstart the car and later on it fails to start on its own, the steering alignment experts at our vehicle accident repair centre know that it is likely a dead battery.
What are the indicative signs of a bad alternator?
If you suspect the battery is alright and it might be an issue with the alternator, there are some giveaway signs to look out for:
Funny noises. If you hear any clicking sounds when you turn your car on or hear a growl or high-pitch type of sound, it could mean the alternator is shot or on its way out.
Your battery light goes off. It's natural to think if you see your battery light go off that it must be an issue with the battery. But remember, your alternator helps power the battery, so if things are out of order, this signal could mean that there is actually trouble with your alternator.
A shift in lights. When your alternator isn't working properly, you might see a change in the interior lights of your car as well as your headlights. They may begin to dim and become even darker, or on the other hand, they may be brighter than usual.
Car accessories aren't working properly. If your car radio is on the fritz, or your windows are taking longer to roll down, or any other accessory isn't working as it should. In that case, it could be a sign that your alternator is bad and not providing enough electricity to function properly.
It smells like something is burning. When your alternator isn't working, it could be burning the rubber drive belt, or there may be hot wires making things smell different.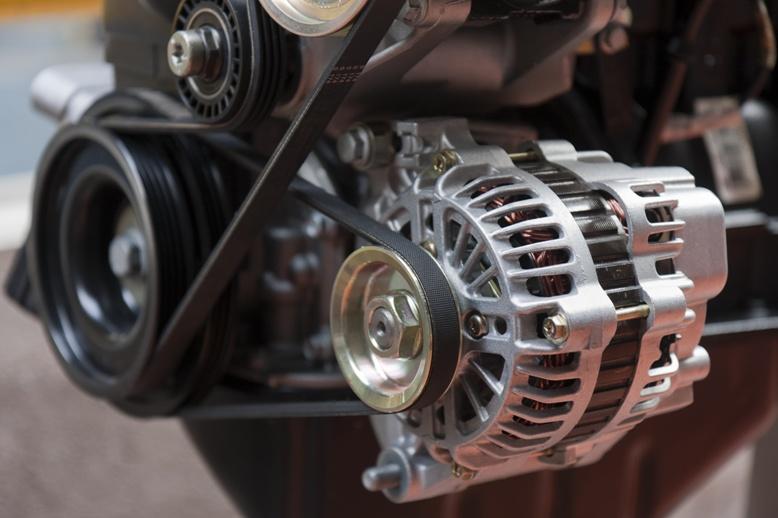 How do you know if you have a dead battery?
If you're dealing with car trouble, you want to clear things up and understand if it's the battery or alternator. Now that we've shared the signs of a bad alternator, how do you know if you have a dead battery?
The car battery is several years old. Typically, your car battery can last around four to six years, so if it's around that time, it might just be time for your car battery to retire and get a new one or consider getting your current one fixed.
The battery smells different. Hopefully, you should never smell your car battery, but if you do and it smells like something is rotting, it could be the gasses from the battery. This could be serious, so you should get it looked at as soon as possible.
Your dashboard lights or headlights are dim. If your dashboard or headlights aren't at their full brightness, it could be a visible sign of a dead battery.
The car is starting slower than usual. It should be relatively easy to start your car and get going. If starting the vehicle takes more time than usual, it could mean an issue with your battery.
You can see battery corrosion. You might be dealing with a damaged car battery if you can to see signs of corrosion. Our steering alignment experts believe that you might see white powder on your car's battery terminals, which is the result of a chemical reaction. We also recommend wearing safety glasses and rubber gloves if dealing with your car battery.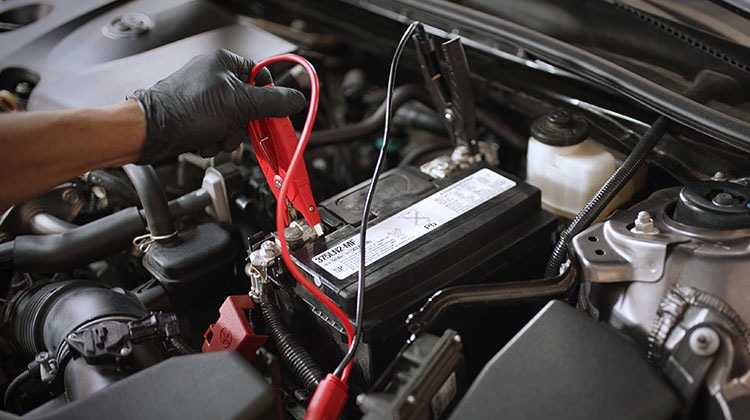 The Bottom Line
If your car is not starting normally, you most likely have an issue with your battery or alternator. Figuring out if it's a bad alternator vs bad battery can be done with the signs previously mentioned by the steering alignment specialists at our commercial vehicle accident repair centre. But if you're still unsure about reading the signs of a bad alternator or dead battery, we recommend that you get your vehicle looked at by a professional who can help. While having car issues can be time consuming, your top priority is staying safe while on the road. To do that, make sure you have the right car insurance coverage as well.
Use Jenkins & Pain, Award-Winning Accident Repair Centre
There you have it, if you do find yourself with damage to your beloved paintwork or steering alignment and need a dent repair, van body repair or courtesy car you can count on us to complete all jobs using industry-standard processes. We offer free quotes and with our exclusive repair service, we are sure you will be happy with the results. Contact our Vehicle Body Shop today. Jenkins & Pain are an accident repair centre based in Dover, Kent. We are proud to call ourselves an award-winning accident repair centre. Check out our guide on how to look after your alloys!
Ready to Visit Our Vehicle Body Shop?
We understand how costly and inconvenient it is for a vehicle to be off the road and therefore we use processes that ensure your vehicle is repaired quickly and efficiently. So whether you need minor scratch repairs, major body repair, or alloy wheel restoration, our van body shop and car body shop can guarantee a high-quality service. We also repair light commercial vehicles and motorhomes. Contact us today for a paint repair at our Car Body Shop!