Although you may think that it is fairly easy to defrost a car, there are some techniques that could do huge damage. Our plasti dip and steering geometry experts at our express repairs centre reveal our top tips to defrost your car…
Prevention:
Prevention is a great way to combat frost on the windscreen. You can cover your windscreen with cardboard, a towel or buy a screen cover that is made to protect your windscreen from the elements. It's also a good idea to have de-icers at hand. You can pick up these spray bottles from your local supermarket, garage or purchase them online. You can also make your own mixture at home with 1/3 water and 2/3 rubbing alcohol, and place it in a spray bottle. So, what's the science behind rubbing alcohol? Well, rubbing alcohol has a lower freezing point (138 degrees below freezing). This means the solution will not freeze, giving you ample time for the liquid to help defrost the car and cut down your car scraping time.
How to defrost your car effectively:
You'll need some de-icer & an ice scraper (which our plasti dip experts recommend you keep in your car when you're out and about just in case your car freezes up whilst you're out).
Step 1: Put on some warm clothes and a pair of gloves to help protect your hands from the cold.
Step 2: Spray de-icer or use an ice scraper to clear the ice/snow from all of your windows and your side mirrors.
Step 3: Ensure that your lights and number plate are clear of ice/snow.
Step 4: Check that your windscreen wipers are turned off (especially if you have an auto setting). Our steering geometry specialists know that if your wipers are frozen to the glass, you could end up damaging the motor.
Step 5: Start your engine and switch on the heated rear window (and the front heated windscreen if you have one). Run the heaters inside the car, allowing the air-conditioned air to circulate around your car to slowly defrost your windows. Our express repairs experts know that some people prefer to start their engine and get the heaters up and running before spraying the car with de-icer and removing the ice/snow from their windows.
However, you should never leave the keys in the ignition and your car unattended. If you need to go back inside, our steering geometry experts recommend removing your key and locking your car.
What our plasti dip experts say not to do when defrosting your car:
Do not use hot water to defrost your car windscreen – our plasti dip specialists know that the contrast of cold and hot could smash your window!
Do not attempt to de-ice side windows by opening them, as it can damage the electrics.
Do not drive unless all your windows and mirrors are clear.
Do not drive with snow still on the roof of the car.
Never leave the keys in the ignition if your car is unattended.
Never try to force frozen wipers off the glass.Do not use your hands to wipe your windows as you'll leave greasy marks. Always make sure you use a lint-free absorbent cloth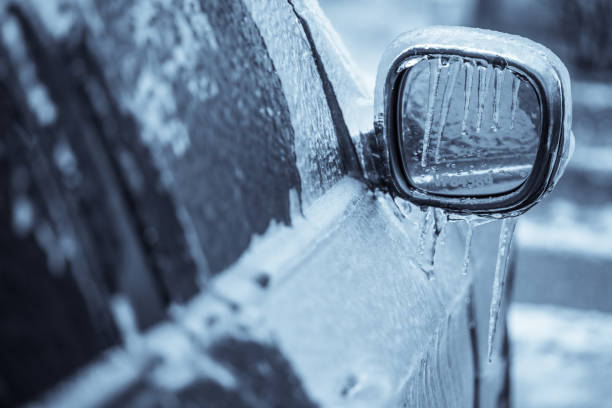 What does The Highway Code say about defrosting your car?
Before you set off:
You must be able to see, so clear all snow and ice from all your windows.
You must ensure that lights are clean and number plates are clearly visible and legible.
Make sure the mirrors are clear and the windows are demisted thoroughly.
Remove all snow that might fall off into the path of other road users.
Check your planned route is clear of delays and that no further snowfalls or severe weather are predicted.
Use Jenkins & Pain, Award-Winning Express Repairs Centre
There you have it, if you do find yourself needing plasti dip, car bodywork repair or steering geometry repair and need a car repair or van repair you can count on us to complete all jobs using industry-standard processes at our express repairs centre. Our body shop repair centre offers free quotes and with our exclusive repair service, we are sure you will be happy with the results. Contact our Vehicle Body Shop today. Jenkins & Pain are a vehicle accident repair centre based in Dover, Kent. We are proud to call ourselves an award-winning accident repair centre. Check out our guide on how to look after your alloys!
Ready to Visit Our Vehicle Body Shop?
We understand how costly and inconvenient it is for a vehicle to be off the road and therefore we use processes that ensure your vehicle is repaired quickly and efficiently. So whether you need minor scratch repairs, major body repair, or alloy wheel refurbishment, our van body shop and car body shop can guarantee a high-quality service. We also repair light commercial vehicles and motorhomes. Contact us today for a paint repair at our Car Body Shop!